Weight Management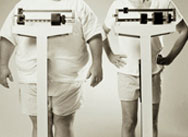 Weight Loss Program for 2 months / 4 months- These programs are specially designed to deal with physical and psycho-social problems of being overweight and bring about a positive changes towards both , self as well as food.


The clients are encouraged to meet Geeta weekly , for the first month and thereafter, fortnightly.


The program includes complete medical and diet history, diet recall, body fat analysis , anthropometric measurements, customized diet plan, weekly menu, tips on exercise regime, travel and eating out menu and counseling.